Colleen Kirby, Esq.
Attorney at Law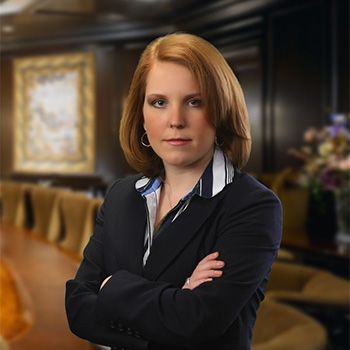 I earned my Bachelor of Arts degree from the University of Delaware, where I majored in Criminal Justice and participated in the Honors Program. I later attended the University of Baltimore School of Law where my concentration was litigation and advocacy. I studied under Professor Byron Warnken, who was my instructor for Criminal Law, Constitutional Criminal Procedure I and II.
Graduating cum laude and winning an award for academic excellence, I earned my JD while ranking in the top 20% of my class. After participating in the University's Clinical Program, I became licensed to practice law, serving as a public defender in Baltimore City. While working for the Office of the Public Defender, I also worked in the private sector for Towson attorney Richard Karceski, handling criminal matters. I was admitted to the Maryland Bar in December of 2007.
Following law school, I served as a law clerk to the Honorable Joseph F. Murphy, Jr. When I began my clerkship, Judge Murphy was the Chief Judge of the Maryland Court of Special Appeals. During the course of my clerkship, Judge Murphy was appointed to Maryland's highest Court, the Maryland Court of Appeals. While working on both courts, I was responsible for conducting legal research and drafting appellate opinions, some of which have been published and now serve as Maryland law.
Before entering private practice, I spent over two years working as an Assistant State's Attorney for Howard County. I became a skilled trial lawyer by handling a variety of criminal and traffic cases for the State of Maryland. I have successfully handled countless DUIs, driving while suspended, assaults, drug possession, theft charges, domestic violence and many other cases involving possible incarceration. In November of 2008, I successfully completed the Trial Advocacy Program sponsored by the Maryland State's Attorneys Association and now apply those skills to defend individuals charged. In 2013 I was nominated as one of the Top 40 Under 40 by the National Trial Lawyers Association and in 2014 I was nominated as one of the Top 100 trial lawyers by the National Trial Lawyers Association. Please contact me today for a free consultation.
With me, you get more than just an attorney. I'll stand by your side just as I would for a friend or family.
Education
J.D. - University of Baltimore School of Law

B.A. - University of Delaware
Bar Admissions
Awards
Top 40 Under 40 by the National Trial Lawyers Association

Top 100 trial lawyers by the National Trial Lawyers Association